Location: Virtual support
Duration: 2021
ISF role: Project promoter
The "Digital Stories: us and technology in a time of pandemic" project is a call to action to tell how the relationship with technology has changed over the last year and to promote awareness of the projects Strillone and Sensoltre.
The involvement of the public on the issues of inclusion and technology takes place with the writing of episodes either real or fictional.
All the stories, collected between February and May of 2021, can:
be listened to for free in the "Strillone" app, newspapers and stories reader with voice synthesis, from all Android and iOS devices >> app "Strillone"
be read in the ebook DIGITAL STORIES – THE BOOK available in three formats:
The 3 most voted stories ("Ilaria e la musica" by Ilaria Comastri, "Teatro Strillone presenta: fragilmente connessi" by Alice Montanaro, "Il mostriciattolo corona" by Elena Fiume) inspired the creation of as many tactile paintings for a mini-path in the dark of the Sensoltre exhibition whose first exploration will be held in Rovereto between 21 and 23 October 2021 on the occasion of the Festival dell'Informatica Sociale  (Social Informatics Festival).
To follow the developments of the project, visit the Facebook and In-Stagram social pages of Informatici senza frontiere and Sensoltre >>
DOWNLOAD EBOOK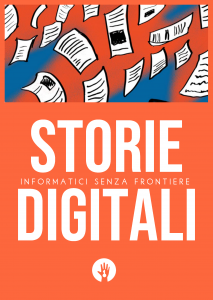 Scarica qui di seguito l'ebook STORIE DIGITALI – IL LIBRO in uno dei 3 formati: